BASIC GUIDE
Picking a colour for a website means much more then picking your favourite colour and turning it into a layout
Web design has come a long way since 1991 when the first ever website (exclusively text-based) was published. Today, over two decades after the publication of the first website, web design has firmly constituted itself as an irreplaceable element of every good marketing strategy.
In terms of modern aesthetics, we have seen the growth of minimalism, flat graphics, blended typography, and large background images. In addition, UX (user experience) has taken centre stage, giving way to such design features as infinite scrolling and single-page design (all applicable to the N3RD website).
However one thing that hasn't changed over the years and it is the importance of colour. Picking a colour for a website means much more then picking your favourite colour and turning it into a layout. In addition to supporting your brand, it can help achieve the desired response from your audience. But for that you need to understand how colours are classified and their meanings.
Classifying colours
Colours are traditionally shown in a colour wheel, and from this wheel, we can separate then into three main groups: primary, secondary and tertiary.
The three primary colours are red, blue and yellow. These colours are the base colours that make up all the other colours on the colour wheel.
Mix the primary colours together, and you get the secondary colours. These are orange, green and purple.
Tertiary colours are comprised of the middle colours like yellow-green and blue-green. They are created by mixing a primary colour and a secondary colour
Relationships of Colours
There are plenty of terms to describe colours, which will be helpful to know later on when we discuss colours and their emotional meanings.
-Complimentary colours are colours that compliment each other well and are located opposite of each other on the colour wheel. These are colours like blue and orange, purple and yellow, and red and green.
-Analogous colours are those located right next to each other on the colour wheel, so they usually match fairly well but provide little contrast when used together.
Colour Groups Based on Emotions
There are colour groups that are associated with emotions: warm, cool and neutral.
-Warm colours evoke warmth like red, yellow and orange.
-Cool colours make people think of cool and chilly colours like blue, green and purple.
-Neutral colours, as the term suggests, don't create much of an emotion. Coors like grey and brown are neutral colours
Types of Colour in Design
There are two different colour systems and both are used depending on what you're designing for.
-RGB is short for Red Green Blue, which are the three primary colours of the system and is produced with light. RGB is used on televisions, computer monitors, and any kind of screen.
-CMYK, which is short for Cyan Magenta Yellow and Key (Black) is created by pigments and is used in print.
How users see the colour choices
Colours can stimulate and excite people, increase their appetite, make them feel warm or make them feel calm. Huge corporations with lots of financial resources will use large amounts of money to study the effects different colours have on different cultures, before entering a new market.
Visitors to your website make subconscious opinions of your brand the moment they land on the homepage. The colours used are the first thing they see which triggers their subconscious response to that particular colour scheme. Colours are psychological and all have built-in associations.
Take a look at this infographic to get an idea of what colours mean psychologically: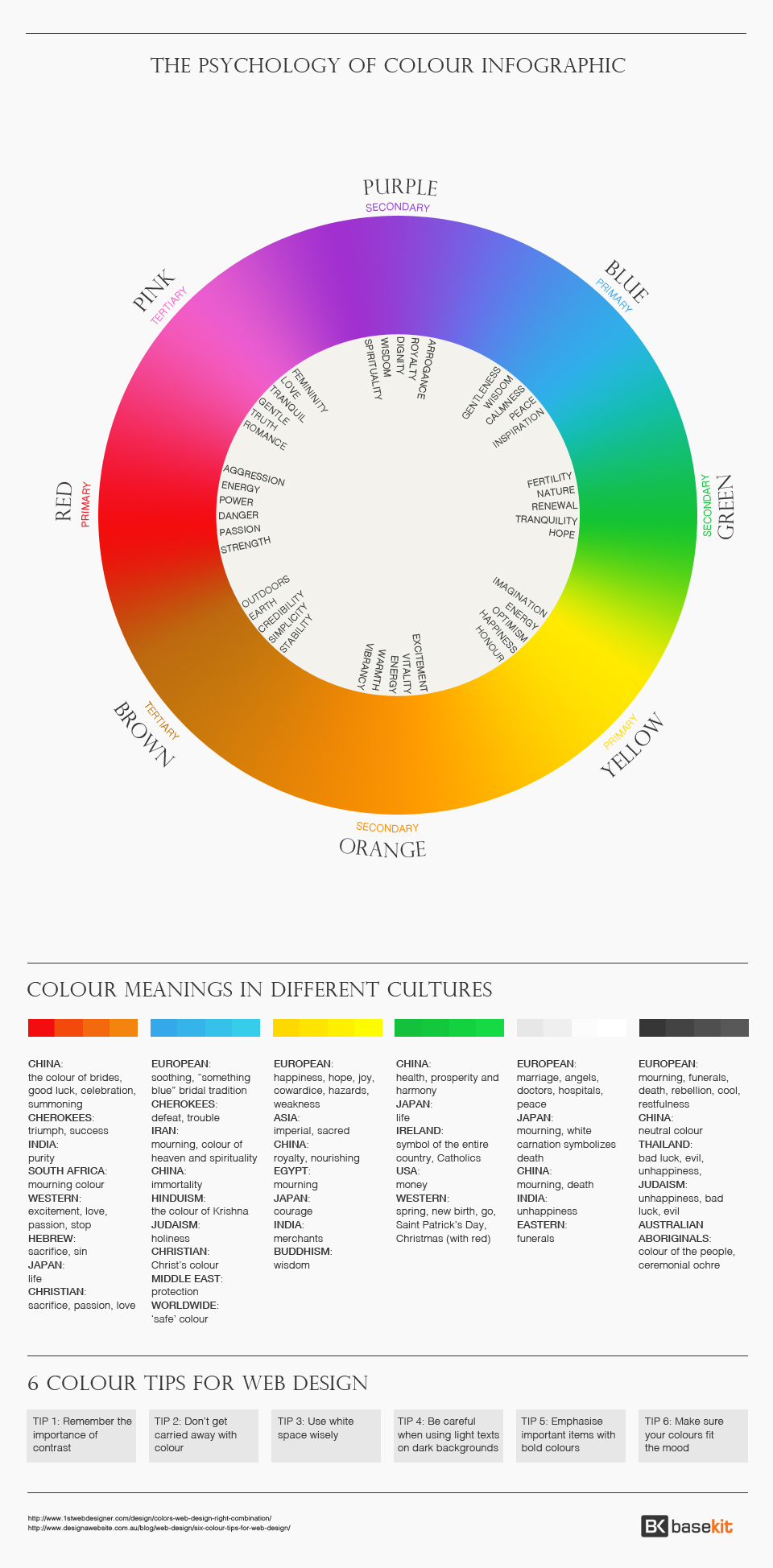 [Via: Basekit – the psychology of colour]
View Larger Image.
Experiment!
This are some tips to guide you through the choice of colours :
The fewer the better. Creating a harmonious colour scheme is essential and will tie your website elements together, making your page design well balanced.
Colour contrast appears more intensely on screen than in printed matter so utilising it correctly is indispensable for visual success. Complementary colours can work well together as they intensify each other when placed side by side.
Make sure you consider brand guidelines and devise a colour scheme to enhance the company colours. Tints, shades and tones of the main hues can create varied and exciting colour palettes.
You know the rules, now you can experiment and decide what combination is best for your website and your business using this tools: